Aktualne objave
VIOLETIN BLOG (avgust - oktober 2011)
Prostovoljstvo
|
Ponedeljek, 12.12.2011
|
Naša EVS prostovoljka iz Španije, Violeta, je pri nas že polne 4 mesece. Kako je preživela in doživela svoje prve tri mesece v Ajdovščine, si preberite v njenem zapisu. Zapis je v angleškem jeziku.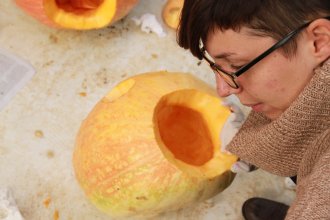 * Zapis je celoti v angleškem jeziku, slovenski prevod je v nastajanju. Celoten zapis ni ravno v pravilni angleščini, vendar je tak kot ga je Violeta napisala. Violeta se med drugim tudi močno trudi izboljšati znanje angleškega jezika in ravno zato puščamo njen zapis, tak kot je, ker bo v prihodnosti zanimivo spremljati, če je njeno znanje angleškega jezika napredovalo v času bivanja pri nas. *
My EVS Project in Slovenia

Ajdovscina 2011-2011
One clear morning of February I received one e-mail of my EVS send organization in my city (Vigo) about one approved project in Slovenia, they asked me if I was interesting in do that, reading I discovered that the project was in one youth center in one little town near the border with Italy (Ajdovscina), the general idea of the project sounded good, different activities with young and children and some work in the hostel where the youth center was.
So, four months later I took one plane to Paris, and there, other plane to Ljubljana, the capital of this small country in the south-center of Europe.
In the airport one lovely couple were waiting for me, the smiling guy is call Matej, and he's in charge of the work in the hostel and youth center, this young man and his girlfriend driving me until my new home, the same building where I realize the most of my activities, that night I slept in my new room, big one, with a big coloring picture, a small white bed, one creel full of fruit, and some Ikea's furniture.
Before explain you the different activities that I was doing this last three months, I should introduce the people who works in the hostel/youth center "MC Hisa Mladih in Hotel Ajdovscina":
Matjaz, our Italian guy, he has two small beautiful blonde children and he's in charge of the Media, concerts, facebook,…
Polona Bratina, she's the most sweet girl that I have meet in my life, she's working with bureaucracy papers, evs project and children's activities.
Tomi and Vania, two really funny and friendly people, they are in charge of the reception of the hostel and the cleaning of this one, respectively.
In the building we have too, one Tourist Information Point, where are working Erika (she speaks very good Spanish) and one silence and serious woman (I don't know her name) and KAS, the student club (they organized very good concerts).
Upstairs, where are the corridor with the rooms for the guests, the reception and my bedroom there is too one corridor full of offices, where are working the Tabornikis, MDPM (one organization which work with little kids, in this organization there is other volunteer from Spain, Super Emilio) and some other organizations that work with young people.
Now, I must explain you the different activities that I was doing or in which I was helping, for that I should do one schema:
AVGUST 2011

The first activities that I saw here in the hostel was the visit of a very happy and hippy man who teach us how to use one sewing machine for do different clothes and complements, some young did handbags, wallets and covers for the mobile phone. Other afternoon Agnes, one very smiling girl, comes for tell some stories about the nature for kids, I did for that one power point with different pictures of this stuffs.
In the middle of this month the youth center organized (like every year) one excursion to "Aqualandia" (in the north of Italy) we spent a very nice day there.
Other of the activities was here, in the little forest outside the hostel, one amazing and intelligent guy, Arijel Strukelj was teaching us how to make one sculpture in wood, so we were working with the wood and fighting with the mosquitoes for almost all the week.
In that month, Matjaz, ordered by internet one "Slackline", Emilio had a lot of fun with that.
And the last activity that I can remember was the visit of one group of longboard skaters from Ljubljana, this guys are working in one online magazine, so cool.
SEPTEMBER 2011

This month was the first Art Market in the area of the new hostel, and the first one after the summertime, different local artist were in this market selling their creations. That day I collaborated with one girl painting textile with children. After that one young journalist of a local newspaper comes for do one interview of me and Emilio, the two EVS volunteers in Ajdovscina.
During the start of September I was helping Janja, the friendly sister of Matjaz in one outside activity with kids, jumping, screaming, creating one tent,…
But when I was thinking that one routine was being created, one unexpected event happened, the Volunteer Arrival Training in the Bohinj's lake, ouuu yeah! (I should tell that thanks to Arijel I had discovered before the beautiful places of Bled and Bohinj).But I don't want start with a long description of that four training days, so, I'll do something better, only do click in BOHINJ (http://www.youtube.com/watch?v=UvVuOxjl8DU) and discover for yourself.
Come back to the reality, the youth center organized in one gallery in Vipavska Kriz one exhibition with the wood sculptures of Arijel and the pictures of the Portuguese man, Simao Bessa. After this Arijel and one group of artist come to the hostel for work outside in one artistic project.
After this, and already in the end of September was the "Strudlfest" with the participation of some amazing old ladies who cooked for us Strudl!! :D
Of course I made something for the Strudlfest, I built with a big box one theatre-castle for puppets, and the result was a success.
Septemer was the month when we (Emilio and me) decided start with the Spanish activities, with the projection of one film of Almodovar, "Mujeres al borde de un ataque de nervios", we bought cockta, chips and pop corn for this event, and, of course, we spent a very nice time with some local people.
OKTOBER 2011

October arrives more cold that I expected, with the Autumn comes too my birthday, my travel to Budapest with other volunteers, and the change of the colors in the mountains.
During all this month, the most of the afternoon my friend Dassa and me were in the bar of the hostel creating complements of felt for sell in the Art Market of November.
Each two Fridays we continued projecting Spanish films in the big room of the youth center and we decided start with Spanish lessons every Wednesday.
In our intention of introduce the Spanish culture in this part of the world, I cooked a typical Galician sweet "Leche Frita", (the start of the joke about "El separador de huevos"). In this month different things occurred:
- "SIMBIOZ@": The introduction of the old people with the tehcnology.
- "Live in the street", the outside exhibition of the group of artists who were working in some sculptures of wood, the sculptures are still in the garden of the hostel.
- HALLOWEEN, like in other parts of the world, Halloween arrives too in Slovenia, for that days we made some activities for kids, like costumes, Halloween pumpkins and short terror films!!
And this is all at the moment people, Se vidimo malo, Aaaadiiiiijoooooo!!!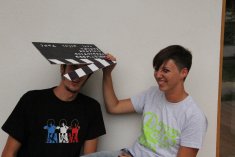 Violeta Juste Díaz
22.11.2011
Ajdovscina-Slovenija
Email
Prijavi se na
e-obvestila
Izpolni podatke v spodnjem obrazcu!